Nintendofans.de aktuell
Archiv
Dragon Quest X All in One Package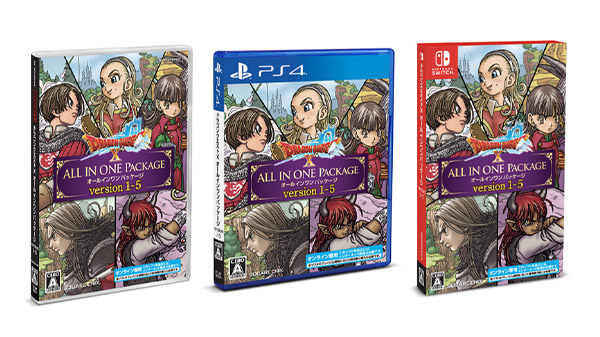 Square Enix hat angekündigt, dass es ein Dragon Quest X "All In One Package" veröffentlicht. Es beinhaltet die Versionenfeaturing 1 bis 5 des Rollenspiels, erhältlich für PlayStation 4, Switch und PC.
Erscheinen soll das Bundle am 14. Mai 2020, aber vorerst nur in Japan. Der Preis wird sich auf 4,800 yen(ca. 41 Euro) belaufen.
Das Package beinhaltet:
- Dragon Quest X: Mezameshi Itsutsu no Shuzoku Online (Version 1) Rise of the Five Tribes Online)
- Dragon Quest X: Nemureru Yuusha to Michibiki no Meiyuu Online (Version 2) (The Sleeping Hero and the Guiding Sworn Friend Online)
- Dragon Quest X: Inishie no Ryuu no Denshou Online (Version 3) (Legend of the Ancient Dragon Online)
- Dragon Quest X: 5,000-Nen no Tabiji Harukanaru Kyuuri he Online (Version 4) (5,000 Year Journey to a Faraway Hometown Online)
- Dragon Quest X: Ibara no Miko to Horobi no Kami Online (Version 5) (The Maiden of Thorns and the God of Destruction Online)
Finde ich interessant! (2) - Quelle: Gematsu
Ulrich @17.März.2020 - 17:14 Uhr - Weitersagen:
Leser-Kommentare:
2 Gäste interessiert diese Nachricht.
Zu dieser Nachricht sind noch keine Kommentare vorhanden.
Hinweis: Da die Leser-Kommentare in Echtzeit abgegeben werden können, ist uns eine unmittelbare Beitrags-Kontrolle technisch nicht möglich. Du hast unpassende oder doppelte Leser-Kommentare gefunden? Schicke uns eine wir kümmern uns darum!
Kommentar hinzufügen
Gast-Kommentare sind derzeit nur zu den allerneusten News-Postings möglich.
Du musst in unserem Forum eingeloggt sein, um das Kommentar-System voll nutzen zu können!