Nintendofans.de aktuell
Archiv
Super Mario Cereal erscheinen am 11. Dezember in den USA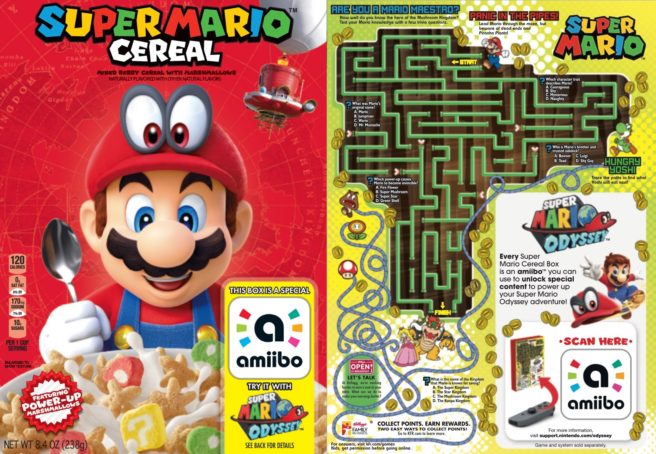 Die Gerüchte um Frühstücksflocken zu Super Mario haben sich bewahrheitet. Nintendo hat nun offiziell die "Super Mario Cereals" von Kellogs angekündigt. Diese könnt ihr ab dem 11. Dezember kaufen, leider aber vorerst nur in den USA. Es gibt noch keine Informationen, ob es die Packungen auch bei uns zu Lande geben wird.
Geschmacklich ist es ein Mix aus Power-Up-Marshmallows und einem Beerenmix. Außerdem verfügt das Müsli über eine amiibo-Funktion und damit könnt ihr in Super Mario Odyssey Goldmünzen oder Herzen abstauben.
Pressemeldung:
REDMOND, Wash., Nov. 30, 2017 With Super Mario Cereal, Nintendo and Kelloggs have teamed up to take fans on a breakfast odyssey that will continue long after the cereal box is empty. In addition to collectible Super Mario Odyssey box art, each Super Mario Cereal box functions as an amiibo accessory, making breakfast a more playful experience.
This powered-up partnership with Kelloggs is another exciting way for us to expand the Nintendo brand in unique and creative ways, said Tom Prata, Nintendo of Americas Senior Vice President of Strategic Initiatives. We are always looking for new opportunities to bring smiles to people of all ages, and this is a fun way to kick off the day.
The limited-edition cereal box will begin hitting store shelves across the U.S. as early as Dec. 11. Those playing the Super Mario Odyssey game can tap the cereal box on the Nintendo Switch system, like you would an amiibo, to receive gold coins or a heart in the game. Even the cereal itself has a Super Mario twist, with colorful power-up marshmallows and a blast of mixed berry flavor in every box.
We are thrilled to pack so much fun into one box of cereal, said Brad Schwan, Senior Director of Morning Foods Marketing. The package adds value and excitement for fans, with marshmallow shapes in the cereal inspired by Super Mario power-ups to tie the theme together.
Finde ich interessant! (7) - Quelle: nintendoeverything
Ulrich @30.November.2017 - 17:30 Uhr - Weitersagen:
Leser-Kommentare:
Bensei, Nimmerlandjunge und 5 Gäste interessiert diese Nachricht.
Zu dieser Nachricht sind noch keine Kommentare vorhanden.
Hinweis: Da die Leser-Kommentare in Echtzeit abgegeben werden können, ist uns eine unmittelbare Beitrags-Kontrolle technisch nicht möglich. Du hast unpassende oder doppelte Leser-Kommentare gefunden? Schicke uns eine wir kümmern uns darum!
Kommentar hinzufügen
Gast-Kommentare sind derzeit nur zu den allerneusten News-Postings möglich.
Du musst in unserem Forum eingeloggt sein, um das Kommentar-System voll nutzen zu können!