Nintendofans.de aktuell
Archiv
Duck Tales: Remastered kommt als Retail-Version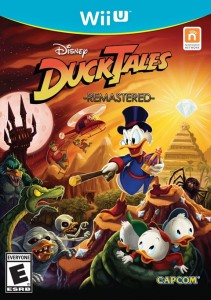 Wie Capcom bekannt gab, wird es für Duck Tales: Remastered auch eine Disc-Version geben. Diese soll am 12. November 2013 für Xbox 360, PlayStation 3, und Wii U erscheinen und $19,99 kosten. Dies gilt allerdings nur für Nord-Amerika, für Europa gibt es diesbezüglich noch keine Statement.
Nachfolgend findet ihr die offizielle Ankündigung.
"It's a Duck Blur! Capcom is excited to share the quack-tastic news that a disc-based version of DuckTales: Remastered will be hitting retail store shelves across North America on November 12. Currently available as a digital download through Xbox Live, PlayStation Network, Nintendo eShop and PC, DuckTales: Remastered will offer an all-new $19.99 disc-based alternative to players on Xbox 360, PlayStation 3, and Wii U.
Originally released in 1989 on the Nintendo Entertainment System , DuckTales was widely acknowledged as one of the generation's seminal platform titles. DuckTales: Remastered once again follows the adventures of Scrooge McDuck and his nephews – Huey, Dewey and Louie, as they explore different themed worlds on their search for five legendary treasures.
The development team at WayForward have taken the levels and layout from the original release and expanded on them to significantly enhance the gameplay experience; but where this update truly impresses is its graphics and sound. All of the visuals from the 8-bit game have been beautifully re-created as hand-drawn and animated sprites, across a backdrop of luscious, re-envisioned level backgrounds. Furthermore, original Disney Character Voices talent, including some from the cartoon TV series, bring in-game characters to life with charm and wit, while the classic melodies of the original soundtrack are given a modern twist."
Finde ich interessant! (8) - Quelle: Nintendo Everything
Tommy @18.September.2013 - 19:46 Uhr - Weitersagen:
Leser-Kommentare:
Bensei, joker1000, Nimmerlandjunge, pohlink, Strife C. und 3 Gäste interessiert diese Nachricht.
Zu dieser Nachricht wurden bisher 4 Kommentare abgegeben.
Hinweis: Da die Leser-Kommentare in Echtzeit abgegeben werden können, ist uns eine unmittelbare Beitrags-Kontrolle technisch nicht möglich. Du hast unpassende oder doppelte Leser-Kommentare gefunden? Schicke uns eine wir kümmern uns darum!
Kommentar hinzufügen
Gast-Kommentare sind derzeit nur zu den allerneusten News-Postings möglich.
Du musst in unserem Forum eingeloggt sein, um das Kommentar-System voll nutzen zu können!