[Spielrunde #14] [SNES] Clock Tower
Verfasst: Mo Okt 01, 2018 09:14
Entwickler:
Human Entertainment
Genre:
Survival Horror/Point-and-Click-Adventure
Spieleranzahl:
1-2
Release:
1995
Clock Tower[a] is a survival horror point-and-click adventure game developed and published by Human Entertainment for the Super Famicom in 1995. It is the first installment in the Clock Tower series. The story follows orphan Jennifer Simpson soon after she is adopted by the Barrows family along with other orphaned girls. With the introduction of Scissorman, the game's antagonist, one of the other children is killed. Jennifer must then explore the Barrows Mansion to find a way to escape while evading Scissorman, leading to one of the game's multiple endings. Clock Tower utlizes a point and click interface with the player controlling a cursor to direct Jennifer's actions.

Much of Clock Tower's plot and artistic style are inspired by the works of Italian horror film director Dario Argento, most notably Phenomena (1985). Director Hifumi Kono loved horror films like this and wanted the game to feel like one. Many of the game's character graphics were digitized from photos of real people. Jennifer's movements were constructed from a woman in Human's planning division acting out the scenes. Her design was inspired by Jennifer Connelly's character in Phenomena.

The game sold "fairly well" upon release. An updated version, titled Clock Tower: The First Fear was ported to the PlayStation, WonderSwan, and Windows. Many years later, it was re-released again on the PlayStation Network, as well as Wii and Wii U Virtual Console. The game has never been officially released outside Japan, although fan translations exist. In retrospective reviews, Clock Tower has been praised for its haunting atmosphere and is considered a predecessor to other horror video games and the survival horror genre, but the puzzles and exploration drew criticism for being tedious.

Gameplay

Clock Tower is a survival horror point-and-click adventure game with 2D graphics. The player controls a cursor to direct the main character, Jennifer Simpson, and give commands such as investigating objects or opening doors. Jennifer can walk and run, although running will reduce her stamina, in which case she may recover her stamina by sitting on the floor. Jennifer's character portrait in the corner of the screen will change depending on her stamina level. In addition to interacting with objects in the game, Jennifer can also store them as inventory for later use. The layout of items changes with each play-through.

Jennifer is under the constant threat of a stalker named Scissorman. When Scissorman is confronted, the game will enter "panic mode." Depending on Jennifer's health status, she may begin to trip, slow down and eventually be killed. Jennifer cannot use weapons against Scissorman. Instead the player must find hiding spots throughout the mansion which are key to Jennifer's survival, or use traps placed in the environment. If caught, the player can rapidly press a button which allows them an attempt to escape. If Jennifer dies it is game over, returning the player to the title screen with an option to continue the game.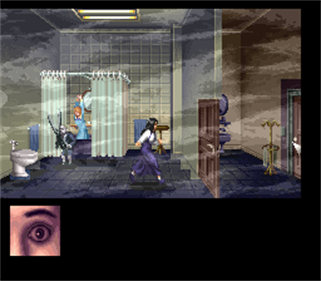 Da das Spiel exklusiv in Japan erschienen ist, hier noch der Hinweis auf die Englische Übersetzung:
https://www.romhacking.net/translations/302/