Games Convention 2005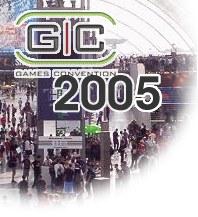 Vom 18.-21. August 2005 öffnet die Games Convention in Leipzig Ihre Tore. Auf diesmal 70.000 m² werden sich zehntausende Spiele-Fans und Fachbesucher drängen.
Wie auch schon in den Vorjahren ist die Nintendofans.de Staff wieder frühzeitig vor Ort und berichtet Euch live vom Messegeschehen.




Artikel
Die Tops und Flops unserer Redakteure by The NFans-Crew
Nintendo Pressekonferenz by ThE CaPtAiN

Interviews
Noch keine Artikel vorhanden
GC-Tagebuch
Tag 2 - Die Massen strömen herbei by ThE CaPtAiN
Tag 1 - Tag der wichtigen Leute by ThE CaPtAiN
Tag 0 - die Anreise by ThE CaPtAiN

Bilder-Galerien
Noch keine Bilder-Galerien online!
Previews
Noch keine Previews online!
Links